CAN'T STOP ready for Sex (Re)Education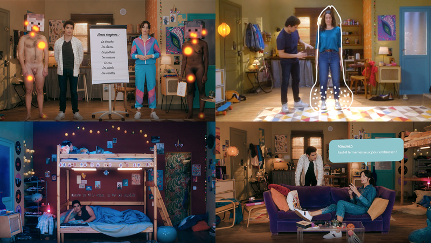 CAN'T STOP media, the boutique distributor based in London, has added the short-scripted series SEX (RE)EDUCATION to its slate with the first episodes released as "Sexotuto" since January 11 on Salto, the French SVOD platform co-owned by TF1, France Télévisions and M6. It will air later this semester on France Télévisions which commissioned the show.
The show is produced by Mesdames Productions, the company created by female TV and radio host Maïtena Biraben and former TF1 and Newen senior executive Alexandra Crucq. The series is composed 38 entertaining tutorials without filters, simple and effective, shot as a sitcom in an apartment decor.
Adopting the codes of the young generation with a lot of fun, SEX (RE)EDUCATION is the first show that answers all the questions that pre-teens and teens have in mind about sexuality. Every 5-minute episode focuses on a specific topic from prevention and education to practical information. Masturbation, sexual orientation, contraception, consent, dating… there is no taboo.
The show is hosted by two comedians who act as roommates. It relies on a lot of humour to catch youngsters' attention.
SEX (RE)EDUCATION talks about sex without filter, using simple and raw words, avoiding vulgarity. To illustrate the explanations while bringing a touch of quirkiness to the show, masked naked extras frequently show up in the apartment. Graphics FX are used so viewers can visualize things that are being talked about.
Created with medical and educational experts, the show relies on 3 key values: tolerance, respect and consent. It has received the support of the French Ministry of Education, Gender Equality, Youth and Family.
CAN'T STOP media will distribute both the finished tapes and the format for local adaptations.
Arnaud Renard explains: "TV has an important role to play to take back control of the younger generation's first approach to sexuality as the average age of a child's first encounter with pornography is as low as 11. Sex (Re)Education brings answers to their questions in a funny way which is perfect to get their full attention."
Maïtena Biraben adds: "If sexuality is often not the positive experience it should be or, far worse, a source of violence, it is due to the fact it is not explained. Once it is not a taboo anymore, once it is discussed, humans free themselves! Knowing one's body, the way it functions, how it changes should be the foundation. We are still far away from that point. I have therefore produced the series I wish I could have seen as a youth!".
Alexandra Crucq tells: "When 2 years ago, I tried to discuss sexuality with my son, I realised he was not at all ready to exchange about this subject with his mother. And as I didn't find anything which would be both explanatory, fun and targeting teens on the web, the SEX (RE)EDUCATION was born! When today, my 13-year-old daughter bingewatches 20 episodes, I feel we have fulfilled our mission: inform without being boring, show nudity without vulgarity, target the 11 to 17-year olds as if they were grown-ups while keeping in mind they are learning".