'Guess My Age' reaches the 2,500 episodes milestone with new commissions and renewals!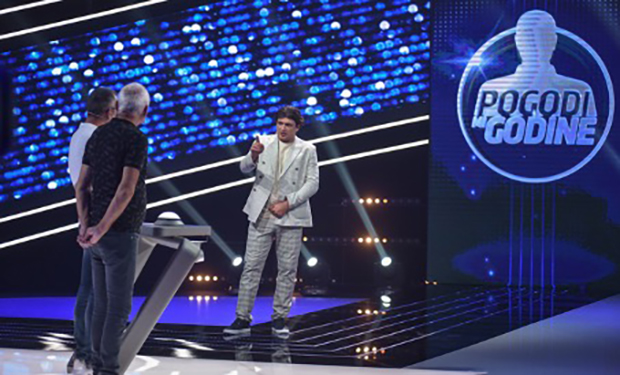 CAN'T STOP media is glad to announce that its hit gameshow Guess My Age has been commissioned in 2 new countries in Central and Eastern Europe. This marks the 16th and 17th local adaptations of the format since its launch on C8 in France 5 years ago. The show has now reached a milestone with an outstanding total of 2,500 episodes produced globally (more than any other new gameshow since 2016).
In Serbia, UNA, the brand new channel also transmitting in Bosnia and Herzegovina and Croatia, is launching a first season of 24 primetime episodes! Titled "Pogodi mi godine" (Guess My Age in Bosnian and Serbo-Croatian), the show will be hosted by Andrija Kuzmanovic.
In Slovenia, leading commercial network PLANET TV has commissioned 24 daily access episodes. They will be produced in Hungary in collaboration with TV2 Group, Planet TV's owner since July 2020 (see below).
In Ukraine, CAN'T STOP media reinforces its collaboration with Starlight Media as NEW Channel (aka NOVYI) optioned the format and ordered a development with a pilot that will pave the way for a first season.
Guess My Age is also being renewed in 3 additional countries where it continues to strongly perform.
In Hungary, TV2 GROUP is ordering a 4th season of the format, with 25 daily access episodes, following 3 successful series hosted by Tibor Kasza.
In Italy, Sky-owned TV8 is also adding more episodes to the show's 5th season (produced by Banijay Italia), now hosted by Max Giusti.
In Thailand, CHANNEL 7 also recently renewed its rights for fresh episodes (produced by Zense), after having already aired 250 episodes in access primetime.
Damien Porte, partner at CAN'T STOP media, says: "Five years after launching, it's thrilling to see the hype around the show has not evaporated and we're glad to continue adding new countries from such diverse horizons: it shows the mechanics truly works globally, and that markets with very different ranges of budget have no problems adapting it in their respective countries. Reaching 2,500 episodes produced worldwide is such an amazing achievement."
Gabor Fischer, Programming Director of TV2 Media Group, tells: "We're glad to bring Guess My Age back to Hungary! Producing it in parallel for Planet TV in Slovenia – owned by TV2 Group – is also perfectly aligned with the synergies of the two companies supported by our management too."
Nataliya GEROVSKA, Head of Acquisitions, Sales and Co-productions at StarLight Media, says: "We strongly believe that Guess my age could become one more success-story in the line of New channel's entertainment studio formats."